One of the most important aspects of successfully claiming R&D tax relief is establishing exactly what you spent on your research and development projects. This spending is known as 'qualifying costs' and it can be a major source of confusion for businesses of all sizes when they come to make their R&D tax credit claim.
At Cooden Tax Consulting, we have extensive experience helping companies understand which costs qualify and can be claimed against. This allows our clients to maximise their claims and get the tax relief that they are owed.
Here we have provided a guide to establishing your qualifying costs to make it easier for you – but if you are interested in working with a firm that specialises in R&D tax claims, please get in touch with us today.
What Costs Qualify for R&D Tax Relief?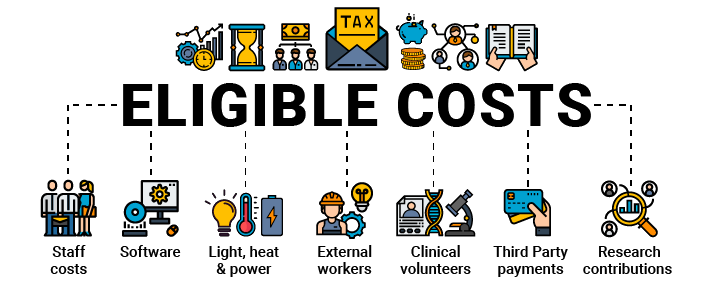 Qualifying Costs Explained
There are strict rules governing what business can claim tax relief against in their R&D projects. Typically, it is considered that revenue expenditure (such as staff costs) can be claimed against, while capital expenditure (such as buildings and other fixed assets) cannot.
The following items can be included in your claim:
Staff costs and salaries
Paying employees is often one of the largest areas of expenditure in R&D – and this can be claimed against. The staff costs that qualify include:
Salaries (including wages, overtime and bonuses)
NI contributions
Pension contributions
R&D-related travel costs
Some of the specific exclusions from staff costs as qualifying costs include private medical insurance and company cars, as well as director dividends. It should also be noted that you can only claim against salaries specifically used for R&D. So if an employee spends 50% of their time working on R&D projects and the rest of their time on normal day-to-day operations, you can only claim against 50% of their salary.
Subjects of clinical trials
Clinical trials can be a very important aspect of R&D work in the medical and pharmaceutical fields, and the costs for the subjects in these trials can be claimed against.
Externally provided workers (EPWs)
Externally provided workers (EPWs) are those working at your business who are not directly contracted by your company. This can include agency workers, contractors, and other freelancers.
EPWs work under your supervision and control as a part of a qualifying R&D project. Once again it should be noted that only the relevant level of expenditure can be claimed against if the EPW carries out non-R&D-related work for you.
Subcontracted R&D work
It may be the case that you have subcontracted a specific aspect of your R&D work to a specialist company. For example, in technology, if you had contracted a specialist company to carry out work on a specific module on your behalf – this counts as subcontracted R&D work.
As with staff costs above, you must apportion the correct amount of time that was spent conducting R&D work. Also, it is usually the case that only small and medium sized companies can claim for the subcontracted R&D work they carry out (although there are exceptions).
Software
If you need a specific piece of software for your R&D work, you can include this as a part of your claim. Once again, the use of the software should be apportioned. If the software is used for other parts of your operational activities unrelated to R&D, you should only claim for the relevant percentage of time.
Consumables
You can claim for materials that were consumed or transformed as a part of your R&D project. Before you think that this can only relate to science-based R&D claims, it should be noted that water, fuel and power count as consumables here. And of course, only consumables directly related to your R&D projects can be claimed for.
What doesn't count as a qualifying cost?
While there are some specific exceptions set down by HMRC, in general you cannot claim for the following:
Capital expenditure
The cost of land or hosting
The cost of trademarking
The production and distribution of goods and services
35K Saved from R&D Tax Relief
"We saved £35k for activities we had not realised were eligible for R&D tax relief. Simon is very knowledgeable in preparing and filing claims that provide everything the authorities need. He emphasises the important things to score on their assessments and concisely argues the point!"
Work with specialists
Establishing exactly which costs can be claimed as part of your R&D tax relief claim is one of the most complex aspects of the procedure. Putting down costs that do not qualify can invalidate your claim and slow up the process of you getting the tax credits you are owed. On the other hand, if you don't claim for everything, you can be missing out on tax relief that you deserve.
If you would like to work with a team of specialists in R&D tax credit claims, Cooden Tax Consulting would be happy to help you.