About Cooden Tax Consulting
Our History
Cooden – R & D Tax Specialists, have been helping companies across the UK for a little over ten years to claim the most valuable tax relief that a Small to Medium-sized Entity (SME) can claim.
Before setting up Cooden – R & D Tax Specialists, I was (I still am) an accountant working first in practice and then in industry, I started helping a client back in 2005, when R&D Tax Relief was scarcely known and even less understood than it is today, to make a claim for some new equipment that they had developed that was supporting British Troops in Bosnia and then Afghanistan gain access to a guaranteed supply of potable water, whatever the conditions of the water supply.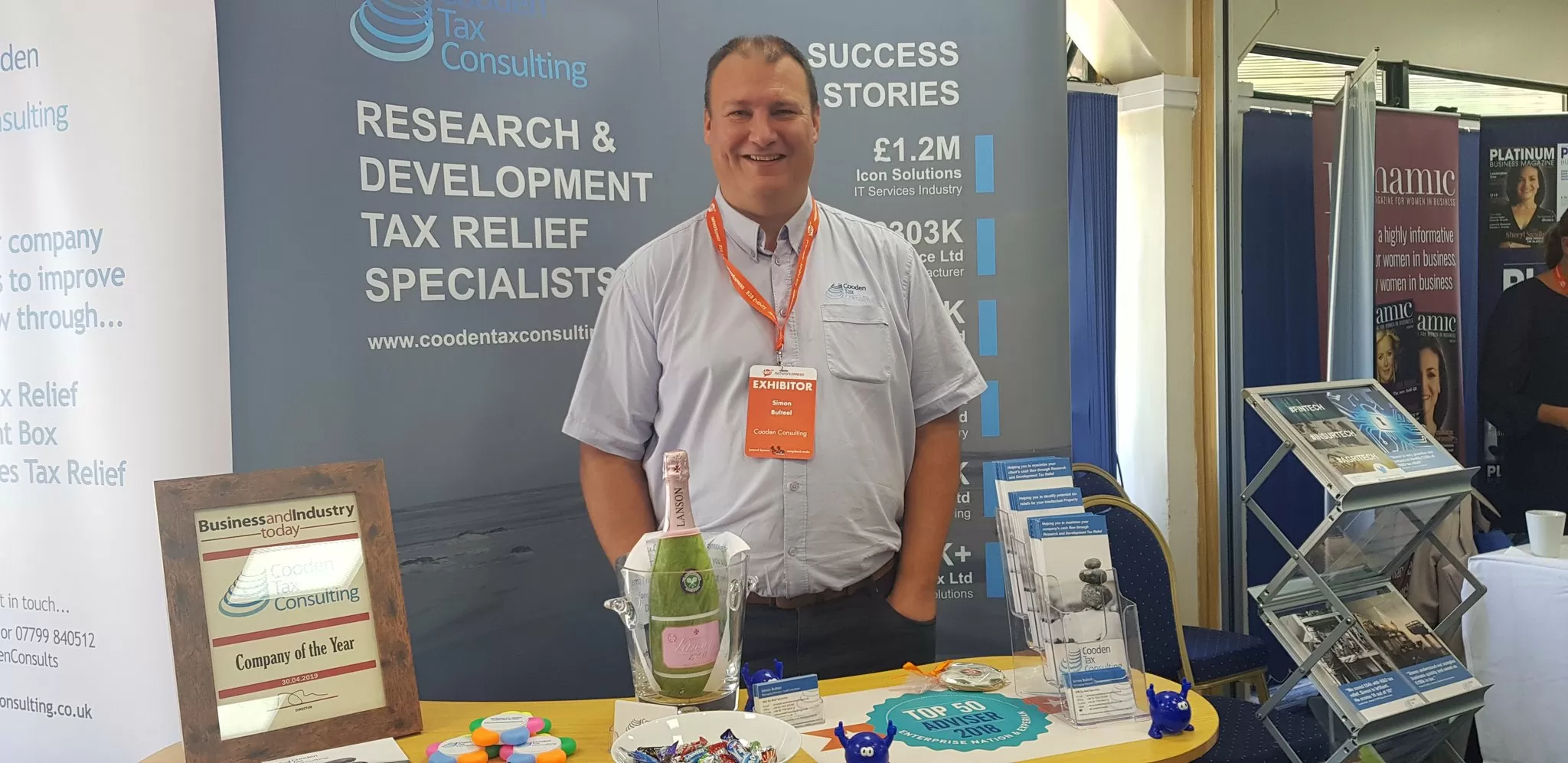 After that I moved into Clinical Research as a Finance Manager and established the methodology for my employer's company to prepare claims for R&D Tax Relief under the Large Company Scheme worth several millions of pounds in the UK, France and the Netherlands and then in 2012 I moved to a motorsport company and helped them to prepare claims worth several hundreds of thousands of pounds. I am now FCCA – a Fellow of the Association of Chartered Certified Accountants!
Simon was extremely helpful with our R&D tax claim, would highly recommend you speak to him if you have any concerns.
Caroline Lloyd
2023-01-26
Simon and the team at Cooden Tax Consulting are a pleasure to deal with, friendly knowledgable and efficient. (On behalf of iPrescribe Exercise Digital Ltd)
Jack Maddalena
2023-01-11
I have had a great experience working with Simon and his team at Cooden Tax Consulting. We have used them multiple times, highly recommended, friendly experts.
Simon and the team have completed 2 R&D claims on our behalf and we can highly recommend them. Simon was able to offer sound advice and guide us through what can be a tricky process. MarK Thompson - PlasTech
We consistently have many offers to provide R&D tax credit relief services but our loyalty to Simon and his highly competent team is unswerving . They are friendly , careful, diligent and efficient . Moreover , Simon is incredibly thoughtful, offering thoughts and suggestions over and above his core competency such is their desire to foster strong relationships and genuine consideration. We will continue to use Cooden as we evolve and develop. A gem of a find and one we have not regretted.
I have worked with Simon for several years. He is very professional knowledgeable and a pleasure to work with. Happy to recommend him to potential clients.
It was great working with Simon and his team on my company's R&D tax credit this year - it was a painless process, the team ensured we maximised our claim, and they produced a thorough and well-explained report for us. As a result, we received the refund from HMRC sooner than I expected! Thank you for your help!
Justin Aldridge
2022-05-11
We have worked with Simon and the team for our R&D tax credits claims for the past 4 years and they have been a pleasure to deal with. They are great to deal with and very helpful in making sure that our claim fully explains everything that we have been doing in detail. We will be continuing to work with the Cooden team on future R&D tax credits claims for the company.
Book a FREE 15 Minute Call
We've found that an initial 15-minute phone call is normally sufficient for us to determine whether there is some potential in a project. Choose a date and time to schedule in your free, no obligation call with our experts.
BOOK A FREE CONSULTATION