What is research and development tax relief?
R&D Tax Relief is a government initiative designed to reward UK companies for investing in innovation. Set up in 2000, there are now two schemes:
1) Small to Medium-sized Entity (SME) Scheme
2) Research & Development Expenditure Credit
If your company carries out research and development, you may be eligible for tax incentives through the scheme. Limited companies spending money on new product development or new processes, R&D into renewable energy, or making significant improvements to existing ones, may be entitled to claim.
What Costs Qualify for R&D Tax Relief?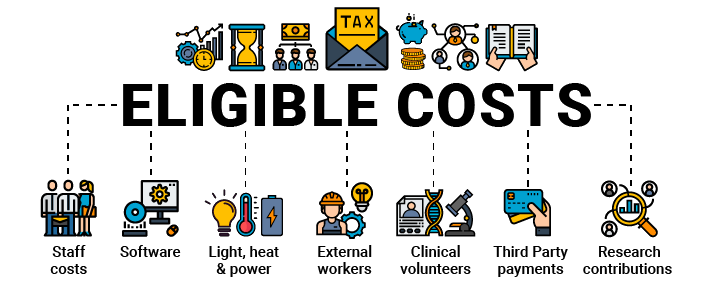 What are the R&D tax credit rates?
We've helped hundreds of businesses make successful R&D Tax Relief Claims. We have the technical expertise to determine eligibility and we can quickly and smoothly help you to submit a claim. The timing of your claim is important.
The scheme offers up to 33% (33p for every £1 spent) on qualifying expenditure. The exact rate your business qualifies for will depend on your Corporation Tax position and whether your business is profitable or loss-making.
The SME R&D Tax Relief allows companies to:
– Deduct an extra 130% of their qualifying costs from their yearly profit, in addition to the normal 100%, enabling a 230% deduction
– Claim a tax credit if the company is loss-making (worth up to 14.5% of the surrenderable loss)
To claim relief your project will need to meet the relief scheme requirements. Cooden Tax can help you to determine eligibility for specific projects and assist in making a claim. We can, in fact, determine whether there is potential in a project in an initial 15-minute phone call.
We offer a significantly reduced fee to 'green' businesses.
Research and Development Tax Credits FAQs
How to claim for R&D Tax Credits
To claim for R&D Tax Credits you'll need to complete a CT600 form and submit it to HMRC. The precise calculations of your claim will depend on your exact situation. If you are a profitable SME you can expect to claim back around 25% of your research and development costs. Loss-making SMEs can claim as much as 33% back. Large companies can typically claim around 10% of R&D costs back.
There are strict criteria to qualify and only certain costs can be included in the claim. There are also different percentages applied to different categories, particularly for qualifying indirect activities.
You will need to write a convincing technical narrative along with clear financial calculations. The last piece of the puzzle is putting all of the required information together and entering it into the correct places on your CT600. It is a complex process and why so many businesses don't bother to make a claim.
There is also the misnomer that your business needs to be in the science or technology field, which isn't true. The R&D itself needs to be scientific or technological in nature, but businesses in any industry can make a claim.
The easiest and quickest way to find out if you qualify and to submit a claim is to speak to a specialist, such as us. We can do all of the work for you in minimal time, applying the correct formulas and writing a convincing narrative to ensure your claim has the best chance of approval by HMRC.
35K Saved from R&D Tax Relief
"We saved £35k for activities we had not realised were eligible for R&D tax relief. Simon is very knowledgeable in preparing and filing claims that provide everything the authorities need. He emphasises the important things to score on their assessments and concisely argues the point!"
How We Help
At Cooden Tax Consulting we help limited companies that are advancing the state of their industry and investing in innovation to maximise the use of the tax incentives available. Successful claims can be received as a cash payment, reduce corporation tax, or increase taxable losses.
The average R&D tax credit claim for SMEs is around £55,000, but many eligible businesses are still failing to claim.
There are over 500 pages of guidance for putting in an R&D Tax Credits claim, but our team of experts specialise solely in Technology Tax Reliefs, including the Research & Development Tax Credit and the newly legislated creative industry reliefs.