Are businesses that collaborate with research and development in Sport seeing any financial rewards?
Let's look at Pedal Power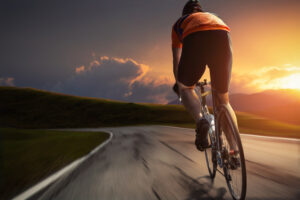 You may have noticed that Cycling in the UK is on the increase.
It has become massively popular thanks both to British successes in the Velodrome at the last three Olympic games and also to British achievements in road racing, both during Olympiads and, notably, in the Tour de France.
Additionally, diverting momentarily from the more traditional two-wheeled velocipede, a not inconsiderable focus was placed on BMX bikes racing in Rio's recent games and, although we didn't win medals there, the excitement of that event doubtless had viewers on the edges of their seats, with the likely result that interest in and participation in that sport will see a dramatic increase between now and the Tokyo games. We'll return to the BMX bikes theme later on. Let's not forget too, Mountain biking, either as a leisure pursuit or involving racing events over rough terrain, is also very much a growth sport.
Health and the Environment
Looking at cycling from another angle, it's also true that as our urban centres become more and more congested, coupled with a growing twin emphasis on both our health and our environment ,so local councils, town planners and some progressively minded employers are increasingly examining how they might develop and encourage cycling, both for workers coming in to our cities day in and day out Monday – Friday and also, during the weekends, as most visibly demonstrated by the Barclays Bikes initiative in London, for tourists, as an alternative means to get around and enjoy their sightseeing at a more leisurely pace. Here's an excerpt from Wikipedia regarding the latter.
"In July 2010, 6,000 bicycles became available for short-term rental from TfL under the Barclays Cycle Hire at 400 docking stations in nine central London boroughs. This was later expanded to 8,000 cycles from 570 stations. The scheme, run by Montreal -based BIXI, initially covered about 17 square miles (44 square kilometres) over nine central London boroughs, and included 6,000 bikes and 400 docking stations. The docking stations were spaced by 300m and mainly at key destinations and tube stations in central London. There is a charge for hire but there was a period of free use to encourage the scheme.] The scheme was designed based on a feasibility study produced by German Dector-Vega and Charles Snead in Nov 2008."
There's lots going on, but whilst it might not immediately spring to mind, progress and change doesn't arrive out of nowhere. Long term planning and research is usually behind any notable success or significant development and this is clearly indicated throughout the above quote and specifically in its closing words.
Gaining a Competitive Edge
One or two sports development programmes have become quite famous. Former GB cycling team manager Dave Brailsford's initiative "Marginal Gains", instituted from 2010 onward, introduced a concept that he referred to as the "aggregation of marginal gains." He referred to the idea as "the 1 percent margin for improvement in everything you do." believing that if you improved every area related to cycling by just one percent, then those small gains would add up to remarkable improvement.*  Applying and testing that theory took a not inconsiderable amount of time and effort and potentially there could have been some collaboration with any number of businesses and associated costs for everyone involved in subsequently achieving the results delivered by Bradley Wiggins et al.
Less well known is that a great deal of research and development also goes on behind the scenes in relation not just to cycling but in many other sports too. We've come to almost expect success in rowing but the Sydney 2000 eight-man men's boat painstakingly developed and honed their prowess via a programme of training and, to a degree, lifestyle choices that focused on performance improvement enshrined in the question: Will it make the boat go faster?*
It's perfectly probable that this article could be filled by citing other closely related initiatives in any number of sporting activities.
The question though is: are businesses that may be involved in such projects accruing financial gains or recouping financial costs for themselves?
Knowledge Transfer Partnerships
In preparing this article it has emerged that despite the undoubted volume of innovation in sports development that is taking place, there is little evidence of businesses who may be involved seeking to recoup  costs via Research & Development Tax Relief applications. This may partly stem from the notion that where an award may be made for research to be undertaken – for example as the result of National Lottery funding or a grant from the Government's Innovate UK scheme, where the total expense hasn't been directly incurred by the company itself, then and therefore no scope exists for such an application down the line.
In some cases this may well be so, but it is not always the case with Knowledge Transfer Partnerships which promote collaboration between commercial businesses and academic institutions.
Whilst Knowledge Transfer Partnership projects do come within the ambit of the Innovate UK scheme, government funding tends to go directly to the academic institution involved and, where either or both further funding from a business to the University and/ or company staff costs directly associated with the research are incurred, the business partner may very well be able to claim back some tax via an R&D Tax Relief application
Let's Back-track then…to BMX Bikes
Cooden Tax Consulting is currently advising a business based in Hastings, who occupy a premises that has been developed as a state of the art BMX and skate park. They are collaborating, under the umbrella of a Knowledge Transfer Partnership, with a Sussex University to develop a training programme, designed to maximise performance of competitors in this engrossing Olympic discipline. That's not dissimilar to what was undertaken to promote British Track cycling to the forefront of the sport; it's cutting edge research and we are excited to be part of the venture and be able to provide expert advice to the business concerned on the potential to recoup some of their costs via an R & D Tax Relief application.
So….on yer bike, let's get the wheels in motion!
Other projects, similar to this, in cycling and in other sports, are highly likely to merit the submission of an application for Research and Development Tax Relief, where direct costs to the business can be identified.
If you feel you're peddling like crazy to develop new ideas in the sporting world, in the world of transport, or perhaps a combination of the two related to our infrastructure and/ or providing an advantage to our environment, don't miss out on the opportunity to raise funding or replace cash in to your business via the R&D Tax Relief schemes. We can't promise you'll get a medal but the rewards for your efforts may be substantial.
Contact us for more information.