Drum roll please……
We think it could be stand A170 for the most unusual, fascinating and record breaking attraction … so make sure you visit during 11 and 12 May at the London Excel. (OK, hands up, we'll admit that stand A170 is our Cooden Tax Consulting stand, but it's not us that is the attraction!)
We are delighted to announce that we will have the British record holding, electric drag-racing motorbike on our stand for you to admire! Its record is 96.53mph.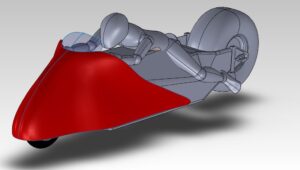 You could WIN 2 VIP tickets to see the British

Fast Charge Team prepare for their world record!
(You only have to drop in your business card – it couldn't be easier to be in with a chance to win.)
Yes, world record! A longer, 4.5 metre, radically new prototype British electric bike (it is too big to go on our stand!) is soon to be in a drag race looking to steal the current World Record from an American Bike!
Quiz the Innovator
If you visit us on stand A170 at Accountex on Thursday 12 May you will also have a chance to quiz Phil Edwards, who owns Weald Technology, the company that has developed both these bikes (www.weald-tech.co.uk).
Phil said "we love engineering and exploring innovation in science and technology.  We come from a world of process control and lean manufacturing, so we want to provide smart solutions that are reliable and repeatable. We are keen to push the boundaries of sustainable electric vehicle technology and inspire children."
Phil is part of the Fast Charge project (www.fast-charge.org) that is putting the world record breaking team together. The aim is a quarter of a mile in 6 seconds, reaching 200 miles per hour with one thousand horsepower and zero emissions! This is a Great British project to inspire the next generation of scientists and engineers. Phil and the team are always on the look out for sponsors and have the potential to offer some great deals, if you are interested you can find out more on the website.
Why the Electric Bike?
We work with innovative companies, so we wanted something ground-breaking and interesting on our stand to entertain you all. We were lucky enough to find something fantastic close to our base in East Sussex.
We help science and technology businesses, like Weald Technology, who are also one of our newer clients, to save thousands with Research and Development Tax Relief. We do this by working with Directors of innovative companies directly, or via referrals and white label services for Accountants, Solicitors and Patent Attorneys.
The good news is that it's not just creative, technological and manufacturing companies that are eligible for R&D tax relief. We have helped brewing, engineering and insurance companies too. They've saved between £3k and £300k. Not to be sniffed at!
We have special discounts for our services for Accountex visitors too… So whether you love bikes, innovation or saving money, you'll be glad you visited Stand A170.
We can't wait to see you there!